The VGC-VR-N7500 VHF/UHF FM Transceiver is the new kid on the block.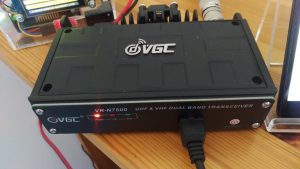 I was asked for help from a neighbour who had bought this and could not get satisfactory operation via Bluetooth to his iphone. Mindful of social distancing, he left the package on our doorstep for me to retrieve!
Unpacking it revealed the transceiver itself, heavier than expected and very solidly built, measuring 6" wide by 51/2 deep max (including the external mounted fan), a decent looking wired fist mic, mounting bracket, power lead (12v to 13.8v) and a PTT button to attach to gear lever/handlebars etc. and a Bluetooth fist mic. It seems some of the latter are available as cost extras but were included.
Being mindful that it was borrowed I did not wish to programme it beyond basic simplex or repeater use, nor set up the APRS or network capability.
On the bench, it was a matter of moments to connect the antenna (SO239),the fist mic via the now almost universal network cable type connection and the power. The rig was fused on both +ve and negative leads.
Downloading the Android app via Google Play Store and installing it took a few moments.
Enabling the app and Bluetooth on a Samsung Android phone (other makes are available), the rig and phone paired and the application started showing my GPS location.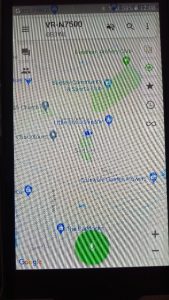 Swiping the page brought up the programming screen and it took just a few moments to put in both 145.225 and GB3WL together with split and CTCSS as appropriate. No messing with usb leads, downloading drivers, finding a suitable programming app (or buying one) and reading/writing to the radio, this is where this radio shines. So intuitive, so easy and you can be up and running in moments. If going mobile (this in truth is the market sector targeted) the unit can sit in the boot and just operate via the Bluetooth speaker mic or indeed the Android phone.
On FM, it is rated at 50watts VHF and 40 watts UHF and those power levels were achieved feeding my "white stick"
Google is your friend the full specs and videos are easily found.
Works really well and although the price is around £190,this being twice the cost of say a Anytone AT778UV, its added capabilities may tempt folk.
Being SDR it is firmware upgradeable (by Bluetooth) which may well bring in more features and/or bug fixes as the product matures.
A 30 page manual is available https://www.moonraker.eu/downloads/dl/file/id/309/product/9250/vr_n7500_manual_v3_1.pdf
The Manufacturers website has more detail at http://www.vgc.net.cn/product/54-en.html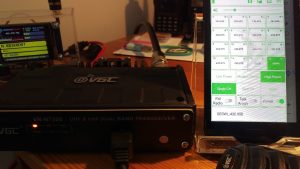 Please excuse the extraneous "QRM" on my desk- the unit to the left behind the rig is my MMDVM running YSF to my Yaesu FT2D.
This unit was on very short term evaluation so the photos were taken in haste!
Our Club newsletter archive hosts hundreds of Members' articles covering all aspects of Amateur Radio.
Take a look using the link on our website and click here for an up-to-date index of Newsletter articles
73
Ian M0IDR