Ian M0IDR has been working on one of these classic rigs…….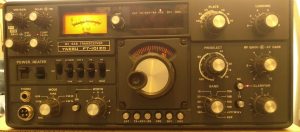 The Yaesu FT101z or FT101zd are classic Hf transceivers from the 70's and really solid made. They feature a valve PA and driver and with the zd, a digital display of frequency.
Photo left: Front of the transceiver which is a Mk1 the D in ZD denotes factory fitted digital frequency display. You will see this is missing as it is in pieces on the repair bench.
With some TLC these can be ready for another 40+ years of service. Having sorted out one for a ham near Stratford,which had been stored for years, it spurred me on to find another example for myself.
The weaknesses in these rigs are: digital display issues, audio amplifier failure, connector issues, driver to PA capacitor leakage and dry joints on some circuit boards.
Having found an example that looked decent, I already was aware that the S-meter and BFO dial lamps were intermittent and it blew fuses. Well, it blew fuses because the fuses that were used were 2amp whereas the rig needed 3amp ones! Correct fuse installed, receive works fine and fuse does not blow.
It is so important to use the correct rated fuse, in this case a 3A fuse of the quick blow variety. An example was the one I repaired for my Ham friend. It had blown the fuse, and the replacement was a piece of lighting flex wrapped around it with a 13A fuse in the plug. Yes it was ""fine"" on receive, but as soon as the PA valves warmed up there were fireworks inside the mis-matched PA valves with one of them dead short-anode to ground. How it did not take out the anode choke remains a miracle.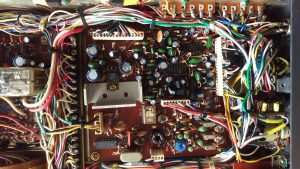 However, after several hours on receive, the audio suddenly cut out just leaving the S-meter registering signals but no audio. I assumed it was the audio chip that had failed. I checked and failed to find an audio signal at the input to the audio amp.
Photo right: A view of the underchassis showing just showing complexity of the audio and demodulation board with one of the power supply boards to the left.
The troublesone audio chip is on the rectangular aluminium heatsink.
However, this rig has the following external audio jacks: rear panel – line audio in; front panel – phones jack and unlike other 101zds the phone jack also has a line out and switches both the output to the speaker and audio input to the amp. Well,phones socket clearly had seen better days but was so buried in wiring that the only way to access it would be to remove all the controls and front panel.
Fortunately several insertions of a suitable 1/4 inch Jack plug cleared the problem.
It is crucial to have service data with full schematics available together with diagrams of signal routing on receive and transmit to progress fault-finding logically. In this case it helped but the wiring of the audio signal through the headphone socket to provide a audio line out was undocumented and unusual especially considering there was already a line out on the rear panel!
Dense component replacement makes voltage readings difficult and generally measurements are taken from the multi-way connectors which are plentiful on the chassis.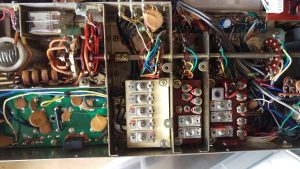 Photo right: The PA and bandswitching
Not shown in the photos, but above chassis there are 2 more circuit boards which have these white multi connectors and (fortunately) for the RF circuits, the boards plug in to multiway interfaces which are chassis mounted and make removal and replacement easy.
Spares are still plentiful and are usually sourced from rigs which have been parted out.
The electrolytic capacitors used in these rigs in general are really good quality and although there are incidents of them failing,they are relatively few and far between.
Most rigs are parted out because of physical damage through being dropped, mains transformer failure, a PA meltdown or bizarrely frequency display failure. Display failure is common and there are now "kits" to replace the readout with a LCD screen which can save the day!
Happy Days!