Japan and Brazil were amongst the countries contacted by the special Jubilee station at Wythall Radio Club.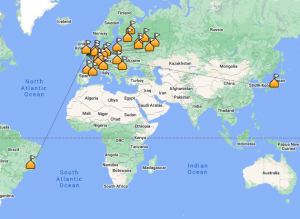 Call-sign GB70E (Great Britain 70 England) was used by Wythall Club members on data modes (FT8) and SSB voice, during their weekly Tuesday night meetings.
This was part of the RSGB initiative to enable radio amateurs and clubs around the country to share in the Queen's Platinum Jubilee celebrations.
Propogation was excellent for FT8, and contacts were made with 10 countries (see map). A week later, radio conditions were poor and we only made contact with four countries by SSB.
A highlight of our SSB evening was to talk with John, the operator of GB70D – the special Jubilee callsign used from the Isle of Man.
[Map courtesy of K2DSL https://www.levinecentral.com/adif2map/]