Sometimes club life is just plain fun! Last night Wythall Radio Club held its annual Christmas Party. Over 60 members, family and friends all came together for a fun-filled evening at Wythall House.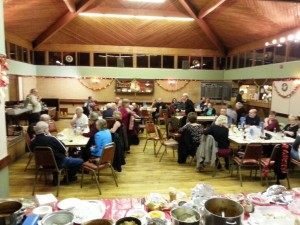 Now "homebrew" to Radio Amateurs usually refers to making radios from parts and building your own receivers and transmitters. Last night it was more about food. Home-brewed curries, tagines and savouries were supplemented by homemade cakes, brownies & all manner of other kinds of bites. No surprise then that we were all stuffed and there was still food left over by 11pm.
Perhaps we should also start a Wythall Baking Club!
With the Wythall House bar serving anything from Cappuccinos to real ale to wash it all down, we disproved our own club motto by having tons of fun, but without any RF being transmitted (for once).
Even Ian our Treasurer was happy as the evening actually made a profit, thanks to many folk's efforts! We should especially mention Jim 2E0BLP who ran, single-handedly, what must have been the longest raffle known to mankind!
As one local West Midlander once sang… "Oh I wish it could be Christmas every day!"