Chris G0EYO informs us that the latest edition of the Wythall Radio Club Newsletter is now available for download.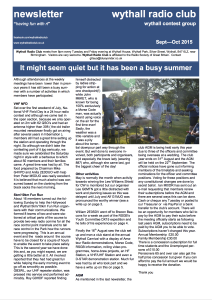 This edition has details on what we have been up to this summer, news of the Lew Williams Shield award, a report on our work at Wythall Carnival and an extended article on young Jamie 2E0SDV's DXpedition to the Brecon Beacons with the RSGB Youth Committee.
There's also a report on Tim M0URX's DXpedition to Ramsey Island and a few technical articles on SDR, Variacs & a historical article on Armond Taylor & Co.
Just click on the newsletter thumbnail on the right, or the icon in the sidebar to the left of this article or maybe just click here and enjoy!