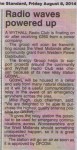 It seems to be coming thick and fast at the moment – publicity for Wythall Radio Club, that is!
This time the Redditch Standard has published a piece not too dissimilar to the one the Redditch Advertiser did a little while ago. Thank you to our friends at the Standard for picking up the story and running with it.
Any publicity is good publicity, or so they say.  The members of Wythall Radio Club hope it will help our club become better known around the communities where we operate.
You never know who's reading…