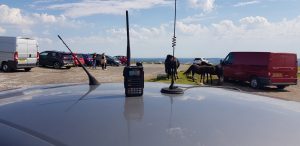 The fine weather has encouraged Wythall Radio Club members to operate portable.
Kev G4XLO, based in Torquay, has been out on Dartmoor:
"For the last 2 weeks I've been on leave from work, not had too much time for the radio apart from an hour in the evening for HF and also re-erected the wire that the seagulls keep attacking (the bloke in the house behind me is convinced it's a seagull trip wire – I'll let him continue with that theory!).
However I was able to get up to Dartmoor this morning with my FT70 HH. Parking up on Haytor car park (photo), there is a formidable panoramic view all the way around and therefore excellent for VHF.
I was easily able to access my local repeater GB7TQ and link it into Hubnet, had a qso with M6NVO in Dudley and also called my Peter G7RPG who gave me a couple of gateways I could try to access.
The trip gave me an idea for next year though, as I spotted some places for a portable HF antenna, so I'm thinking about QRP portable for next year. All I need is an FT817 and I'll be away!"
Meanwhile Mark M1AEC uses a Raspberry PI and a DMR handset in his satellite truck when he's parked up: "I always have internet of course!".
The antenna has a TX gain of 46.2db so quite some eirp and is fed via 2 x TWTA at 750W linearised amplifiers. But sadly the TX is 13750 to 14500 GHZ, so no chance for Moonbounce qsos!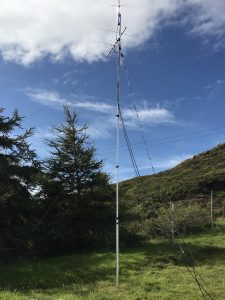 Meanwhile Neil G(M)1TZC was on Skye last week – further north even than Dave, our other occasional GM member – G(M)3YXM.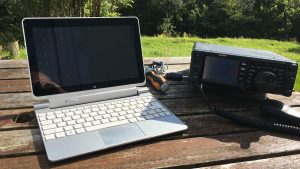 On Skye outdoor radio ops (photo left) were severely affected by QRM from the midges, but Tony had a few contacts on HF. Also a couple of qsos with locals on VHF (photo right).
Neil comments: "Up here in Skye they don't bother to QSY from S20!"