Low power operating – QRP – has added an extra element of fun to Wythall Radio Club members' recent two-way contacts.
John 2E0XET/M6KET often operates his small KX3 radio (on the left of the desk) in QRP mode – defined as 5 watts output or less – and recently serendipity struck!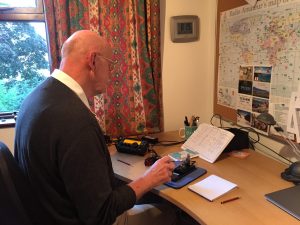 "Funny thing radio conditions. With hardly a red spot in sight yesterday morning on DX HEAT at about 11.50 local time I called CQ on 14.060MHz with absolutely no expectations and only 5 watts output.
The band appeared empty, but Leslie K4DY in North Carolina USA came back to me with my RST of 529 (he was 329 here).
Hardly earth shattering DX I know, but it made one enthusiast just a little bit more enthusiastic!!"
QRP signals may not be s9 – but often they are perfectly readable, especially when using CW.
Meanwhile Darren GW7HOC/MW5HOC fired up his 20m
FOXX-3
for the first time in about 3 years. This little kit rig is built into a mint tin and is rock bound (crystal controlled) on 14.060MHz.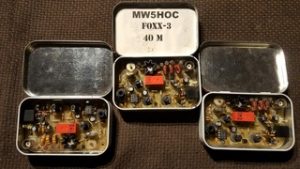 "I put out a QRS (low speed Morse Code) call with maybe 1 watt, and a guy in Greece called me back! First proper CW QSO in quite a while. I do like making contacts with my mint tin rigs. Serious fun!"
So much fun, Darren has built 3 of these rigs!!
14.060 MHz is the calling frequency for QRP stations around the world on the 20M band.
Chris G3YHF is another QRP enthusiast. He recently used very low power (QRPp) – 100 milliwatts – to contact stations in Belgium, Germany and Bulgaria on the 40 and 20 meter QRP frequencies. Like John and Darren, he used Morse Code, this time with his
K3S
rig and 40 meter delta loop antenna.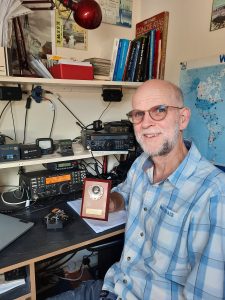 His contacts were to celebrate receiving the QRP Master Award from the
GQRP Club
for working 70 countries with 5 watts of less, of which 20 must be 2-way QRP, plus 60 GQRP Club members. This was achieved with an
Icom 725
modified for QRP output and a G5RV antenna.
So wind back the power and give QRP a go!