There was plenty of radio fun during Wythall Radio Club member Mike G4VPD's recent holiday on the Costa Brava.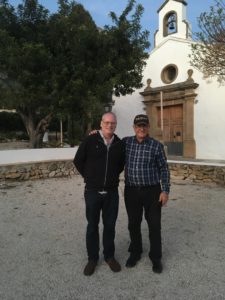 On the way to a local Spanish restaurant he noticed a portable radio setup in the church car park just a couple of hundred yards from his holiday villa.
The operator was Kico EA5GPC. 'We stopped and introduced ourselves – using a mixture Spanish and English' reports Mike.
'It turns out he is a taxi driver in Benidorm and had travelled to Javea to operate from its church in a 'Work all the Province's Churches' radio contest (Diploma Ermitas). He was doing pretty well 'till we interrupted him!'. He had made over 100 contacts in just over an hour on 40m using his homemade dipole and counterpoise vertical mixture.
He welcomed the interruption and requested some photos be taken so he could prove to the contest organiser that he had been operating from the church! Kico's the right and Mike's on the left.
Any amateurs visiting Benidorm should keep an eye out for Kico's taxi. It's the one with the HF mobile antenna!
Besides this face-to-face contact, Mike also experimented with digital communications using FT8.
'It took some time to get the software to transmit the digital tones via the USB cable of my mate's (G8NOF) Kenwood TS-590 but I got there in the end!' comments Mike.
'There was very little to be heard on the 20m or 17m SSB (voice) frequencies, but the world was alive on the digital (FT8) frequency of 14.074 Mhz!'
During the morning he made digital contacts with New Zealand, Australia, Japan, Siberia, India, the Middle East states, South Africa and more, using only 50 watts. Then in the early evening he contacted stations in the Caribbean, USA, Canada, Venezuela, Brazil – to name just a few.