Wythall Radio Club is very fortunate to own a mobile Versatower radio mast – today we are pleased to announce that it has a brand new home.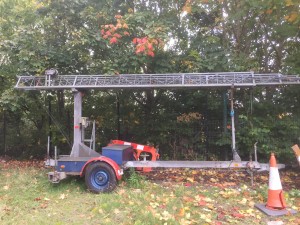 This wonderful piece of engineering extends to 100 feet tall and comes in very useful for outdoor events where good signals are required.
For many years it has been stored at Wythall Park, but for various reasons, we decided to move it to a new safer home in King's Norton.
This year has seen the mast cleaned and renewed – it is in much better shape now than it has been for many years.
We look forward to using it more in the future, who knows, maybe in the Club Calls Contest which is coming up soon?