It may even have escaped the more eagle-eyed members of Wythall Radio Club that this year has seen the release of a new Amateur Radio Band here in the UK.
472 kHz has been granted to us after quite a few years of experimentation under a Notice of Variation to the licence on 501 kHz.  472 kHz is at the bottom end of the old Medium Wave band and probably constitutes new territory for many amateurs, not just "Wythallians".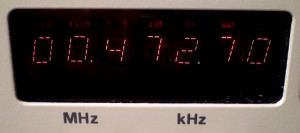 To help unravel the mystery of MF operation, RadCom columnist and low bands expert (and Wythall Radio Club member, we should add!) Dave G3YXM is giving a presentation this coming Tuesday at the Club. He will be opening up the mysteries of this band and explaining just how we can get active on it.
Strangely this talk coincides with an article in the just-released December RadCom magazine where Mike G3XDV writes about the very same topic. They must have been watching our club calendar to time their articles to fit in with us!
So why not pop along on Tuesday 19th November at 2030 to the Club Shack, Wythall House, Silver Street, Wythall. B47 6LZ? Visitors as always are very welcome.