Yet another Wythall Radio Club member is making a splash in the news – this time it is the turn of Dave G3YXM.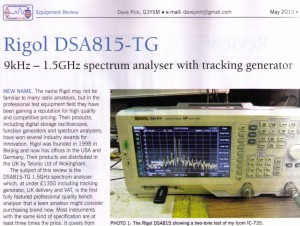 Dave already writes the bi-monthly Low Frequency column in RadCom, the journal of the Radio Society of Great Britain. But this time his writing is featured in the magazine in the form of a review. Page 36 of the latest May 2013 edition (part pictured) features Dave's opinions on the Rigol DSA-815TG spectrum analyser with tracking generator.
We have noted the oblique reference to Wythall Radio Club at the end of his article! Thanks Dave! Of course if you want to know what he really thinks of this rather nice piece of (expensive!) gear, you will just have to join the RSGB to get RadCom to find out! :-)
Needless to say, members of Wythall Radio Club are very proud that Dave's writing should be featured in this way. Most new members of the club know Dave well from his teaching on our Training Courses and he is a regular contributor to club events and a well respected member of the club as well as obviously in great demand by our National Society.