Wythall Radio Club are proud to unveil the newly named 'Voice of the Midlands' Jim Tonge 2E0BLP Trophy.
The Trophy will be awarded to the winner of the Club's Christmas Contest 2m/70cm section.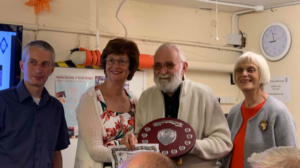 Jim is a longstanding member of Wythall Radio Club, and has been a great supporter of our events and social activities.
Like many other members, he arrived in amateur radio from CB.
Jim has won the Club's Christmas and Easter contests several times. The photo shows him receiving the David Dawkes G0ICJ Easter Contest all bands/mode section shield.
He has also proved particularly hard to displace from the top spot in the 2m/70cm sections of these contests – and although still keen to score points, it's his son Kevin 2E0NCO who now regularly tops the score board!
And as you can see from the photo below, one of his duties is b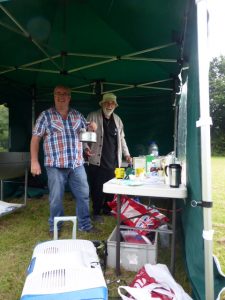 rewing up at the Club's field day (with Tim M6OTN).
It is because of his commitment to the Club and amateur radio – and hearing his distinctive Brummie accent on air – that we are delighted to name the 'Voice of the Midlands' trophy after him.