Our 35th ANNUAL WYTHALL HAMFEST will take place on SUNDAY 15th March 2020. Doors open 09:45am – DISABLED ACCESS FROM 09:30am.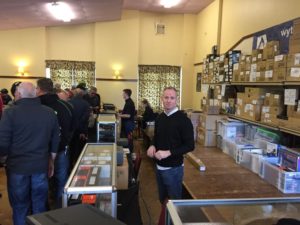 Our growing list of traders includes…..
RadioWorld – regulars at the Hamfest who bring you a wide range of goodies. They are one of the largest suppliers of radio communications equipment within the UK. Check out their comprehensive stock (they also do a nice line in mugs and T-shirts!).
Sinotel UK make a welcome return with a selection of antennas and radios – they are authorised UK dealers for Baofeng, KYD, Quansheng, TYT, Vero and Xiegu Technologies. Their stand always has lots of interest.
Worsley Communications supply all major brands of Amateur radio equipment, towers, rotators and aerials. They specialize in ex-NATO pump up masts – which may be a way to get that antenna a bit higher without annoying the neighbours.
RSGB Bookstall will provide a full range of technical and general radio interest books. Come and have a brouse, meet the team and add to your bookshelf!
Solihull ARS will be on hand. And don't forget that they will be hosting the Midlands Inter-Club 'GMT' awards – sponsored by Martin Lynch – at 12 noon, Archery Hut (Hall 4).
MA Components specialize in the supply of small electronic components together with a comprehensive range of nylon nuts screws and washers. Just what's needed for small and large construction tasks in the shack.
Alan Clegg Valves – another regular at the Wythall Hamfest – supplies a wide range of 'tubes' to meet your needs.
….And many more traders to keep you interested – together with 'Burger Bob' for fast food and drink and the Wythall House bar open at lunch time.
Our full trader list will be provided later this month.