Wythall Radio Club's annual summer celebration of outdoor radio operating and bar-b-qing took place this weekend. This 'Plug and Play' weekend is designed so that Club members can bring along radios and erect large antennas that they might not have the space for at home.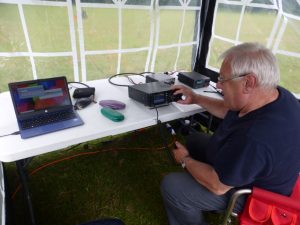 Over 40 members and families attended for the Saturday night bar-b-q, part of the Club's regular social programme.
Members also used a variety of radios and antennas to contact stations across Europe, and into the Caribbean – where we spoke with Steve PJ4DX – using SSB (voice) and FT8 (digital) modes. The Club used the opportunity to participate in the Cricket World Cup Radio Marathon, with the special callsign GB19WI (West Indies).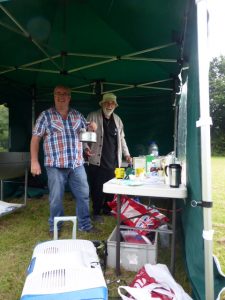 Activity started at 1030 Saturday with a small team erecting antennas and operating tents – as well as the well-equipped kitchen!! Several Club members camped overnight, enabling some late night and early morning radio activity. Pack-up took place on Sunday morning. The location was in the fields near the Club's base at Wythall Community Centre.