As the May edition of the Radio Society of Great Britain's monthly journal RadCom starts to drop into mailboxes around the world, it is pleasing to note Wythall Radio Club making a little bit of a splash here and there in this edition.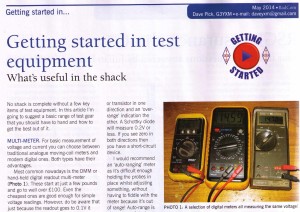 Club stalwart Dave G3YXM has written a 4 page article on page 32 entitled "Getting Started in Test Equipment" – and an excellently authored piece it is too!
In the Sport Radio column on page 73, it is pleasing to see Wythall's name mentioned in the breakout box for our achievements in the 160m Club Calls Contest as part of the Affiliated Societies Super League.
And then in the regional news on page 84, there is an article about some of our recent exam successes.
All in all a good read this month, especially for Wythall members!