The next episode features Neil G1TZC who attended his first Wythall Radio Club 'Plug and Play' last Saturday and despite the very hot conditions calmly erected the gazebo, installed the satellite dish and wasted no time in attracting a captive audience as he introduced them to QO -100 communicating with amateur radio stations through the use of satellite. His report on the day follows: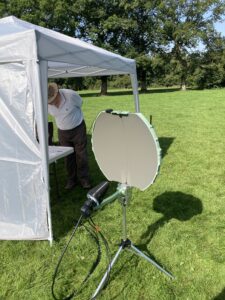 "For my part the Plug and Play event was important on so many levels. Apart from visiting the new members night on the previous Tuesdays, all of my interaction with members had been over the air or via the internet group, so it was great to meet people in the arena of an organised event. It was also a chance to test the portable satellite setup in the real world with various changes and repairs that had been made. Once everyone had arrived and things started to get going, something struck me straight away. Debra and I were made to feel like we had always been members of the club.
It was great to see everyone help everyone else, something that can often be missing from clubs. Often people turn up with the expectation that it will just appear, but not at the Wythall club. People pitched in and helped each other. Four people do a gazebo and erect a mast. People going back and forth between stations to help where needed.
As for the satellite station it was nice to have such an interest from the visitors to the site
Equipment did struggle with the heat but we made a few contacts, but that actually ended up being somewhat secondary. I felt I spent more time talking and explaining how QO-100 differed from other amateur satellites. There was a keen interest in the fact that geostationary operation still kept roots in traditional forms of communication, such as CW and SSB as well as embracing a whole range of digital modes. Also pointing people in the direction of internet resources via the printed sheets in the satellite tent. Several people were pleased that the QR codes were on the bottom of some resources for them to take the pages with them for later reading.
The fact that the system also has an emergency frequency that covers half the planet was explained with the practical example of the earthquakes in Turkey and how the amateurs were able to pass information from the disaster areas to major cities via the satellite without having to worry about any propagation issue. As far as contacts, we had contacts with Finland, India and St Helena Island.
All in all a very positive even and I would be delighted to participate again at any further events."
Coming next and soon
In the final report on the 'Plug and Play' Event …
THE WONDERFUL WORLD OF HF CW AND SSB and….
One of these two pictured left makes a fine cup of tea
and the other a wicked sausage sandwich..all will be revealed in
Fun in The Sun in the Park Part 3