Wythall Radio Club members have been taking to the hills to operate portable. Here, John M6KET reports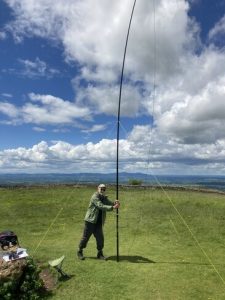 on a recent dxpedition to Bredon Hill – where we had 4 seasons in one day!
They're a hardy bunch these SOTA (Summit on the Air) guys, undaunted by the weather conditions, well organised and scrambling up the hill-side like a mountain goat (GOTA?), lean muscular machines with only one aim in sight – the trig point on the summit.
Our aim was Bredon Hill, Worcestershire – approached by the northern (and more difficult!) route.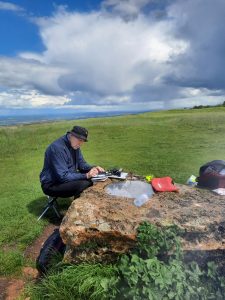 Trailing behind like a malnourished Sherpa, I possibly delayed the arrival time by half an hour but we were soon into the swing with Chris G0EYO responding first to my rare outing with the 2 meter Handie, followed by Don, G0NES: both good signals.
This novice watched in awe as Chris G3YHF threw up the inverted V trap dipole and we were away on 40m SSB with 9 watts (Wot, no SOTA calling frequency?) and Sid, G6UT was quickly in the log from his club station in Harlow.
As the clouds gathered again, the really exciting bit followed with 2 way QRP CW QSO's with Yann F6LAW on 40m and then with German stations on 30m.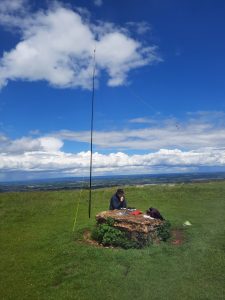 With better weather and we might have stayed longer, but this was late May and the hail stones at our feet and the stinging nettles we dropped our coax plug into suggested hometown and we returned, more quickly and safely, by the scenic route.
A great experience and, for me, really exciting to see how a portable operation can be mounted quickly, given organisation and planning. Something elemental too about being outside with 9 watts, a simple dipole and real QSO's.
The radio used was a Discovery 500 and was incredibly quiet with the signals standing out beautifully from the speaker mic and no need for earphones.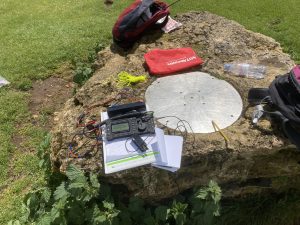 Big thanks to Chris for patiently guiding this SOTA novice through the experience: I'm off now to find some batteries for the KX3 and .. work on my fitness!
PS Don't be misled by the apparently balmy conditions in the photos – only tough hombres could have survived the hail stones and cold driving rain we experienced as the squalls blasted through!!