Fantastic weather has helped to make this year's Wythall Radio Rally an unqualified success!
Traders began arriving in glorious sunshine from 0700 this morning and, helped by the enthusiastic members of Wythall Radio Club, it wasn't too long before all the stalls were ready. Bacon Rolls from our caterers helped the morning go quickly and before long it was 10.00 and opening time!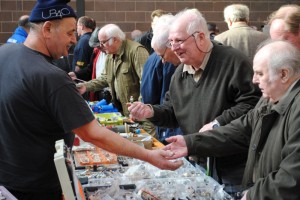 Traders were seen making brisk deals, visitors were caught between the many offerings on display and wanting to stop to catch up and chat with old friends – and despite our inability to use the school playing fields for our car park, the vast majority of visitors were very understanding and helped make today's event the undoubted success that it was.
Thank you one and all, traders, visitors & hard working Wythall Radio Club members – we cannot do it without you!
Enjoy our pictures of the day below – maybe you can spot yourself in one of them? Also our latest club newsletter with longer stories is now available here!