We are very fortunate that,very near to Wythall Radio Club, lies possibly one of the best Indian restaurants in the area! The Monsoon is very popular with families all around South Birmingham and people travel for miles to visit it for a meal out.
Since Monsoon is just a short walk from the club HQ, it is no surprise that the members of Wythall Radio Club use it for a regular social evening!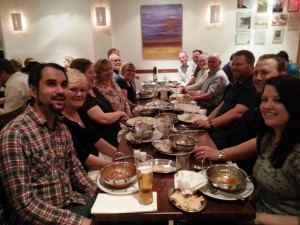 For those who don't know, the social side of being in an Amateur Radio "family" like this is really important. For example, every Friday several of us meet for nibbles and drinks in the club shack; our Field Days and Training days are also excuses for more food and drink; and then every last Monday of the month, as this evening (pictured!), we descend on the Monsoon in force and present the staff with the difficulties of catering for 15 or so hungry radio hams! It all helps the bonding between members.
Just another part of life at Wythall Radio Club – albeit one that has too many of us going on diets so we don't end up more "shack-bound"!