Three Wythall Radio Club members entered the 48-hour CQ World-Wide CW Contest in November 2019. Now the results have been published, here are their stories and achievements!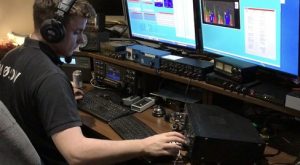 Jamie M0SDV, Lee GoMTN and Chris G3YHF each entered different categories of this Morse code-only competition and were placed 2nd, 3rd and 2nd out of the English stations in their respective class.
Jamie M0SDV reports: I was looking for a station that was better equipped for contesting than my own . Chris G0DWV in Norfolk said he would host me, using the call G9Y (see Chris's antennas below!). I decided to enter the SO2R (single operator 2 radio) high power all bands section.
The first night on the low bands was incredible. The contest started at 0001UTC and I managed the first 1,000 QSOs by 1 hour after sun rise. Then conditions flipped so I decided to have a go at dual CQ – calling on both 20 and 15m at the same time using the 2 radios.
The picture shows me operating radio 1 (left) transmitting an exchange whilst I use radio 2 (right) to do search and pounce for multipliers.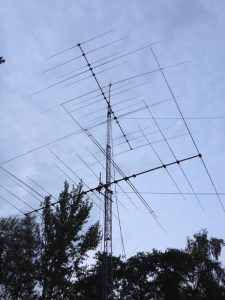 I learned a few things here. The main one being, if you're going to dual CQ, the CQ itself needs to be short and fast!
With another night shift coming on, I decided to work the sunset DX on the low bands, working YB (Indonesia), VK (Australia), ZL (New Zealand), along with far east Russia and some South East Asian countries.
On the second day I worked the missing Europeans from the day before and started to focus on chasing more elusive multipliers. Using the second radio as much as I could I would pause the run on 20 and CQ on 15 whilst searching for multipliers, and vice versa.
The 2nd radio also let me keep an eye on 10m, which did have a short opening to Africa bagging me V55A (Namibia), ZD7W (St. Helena) and some ZS (South African) stations.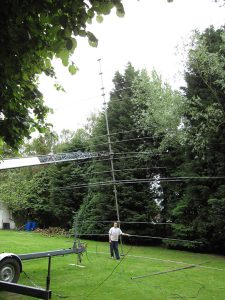 This contest was super fun! Reflecting, I needed to spend more time in S&P (search and pounce) mode looking for the multipliers and less time trying to make a load of 1 point QSOs. I also needed to better plan my off-time. This caused me to lose some 160m QSO's.
It seems Experience trumps Youth in this case. Thank you to Chris G0DWV and his YL Tina for being incredible hosts and making me feel welcome yet again!
Jamie operated for 41/48 hours and made 3,709 QSOs – that's about 91 per hour! His score was 2,635,578 points and he was placed 65/1057 entrants world-wide in his class.
You can find a write up of Jamie's exploits using the pre-production Gemini DX1200 linear amp, loaned by the DX Shop, here
Lee G0MTN reports: Despite writing 'CQWW Contest!' on the kitchen calendar back in January, through bad luck and lack of other available dates my wife was away on a work trip on the Sunday so I was in "SO2R high power all bands assisted + childcare" mode.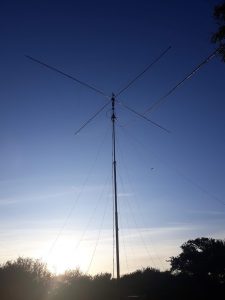 I took Friday afternoon off work to wind up the mast and prepare the wire antennas. I had Spiderbeam yagi / 40m dipole @ 50 feet (see photo left) and 80m dipole @ 45 feet. I ran out of time to raise the 160m antenna. Aside from the rain, there was very little wind for almost all of the weekend which was one less thing to worry about.
I typically start an hour or two after the 0001UTC start, having then had a modicum of sleep. I operated through till after 1am Sunday. The operating itself was a bit of a blur – when checking worked DXCC for my local club's DX ladder even last night I had no recollection at all of having worked particular countries!
I then slept through a very early alarm clock (grrr), and operated until late afternoon when I'd reached 1,800 QSOs and it was time for domestic duties.
SO2R – not as easy as it sounds. I'm using an FTdx3000 as a second radio, and at very low audio levels the audio is a little distorted. I need to fashion another volume control so I can have good quality audio but at a wanted lower level. I missed a number of first radio callers first time due to the second radio – I moved the audio switching 'heavy pileup mode' so I could better concentrate on the first radio when finishing a CQ. Much more practice required.
Even when not actively working people, just being able to dial around the other bands helped with general awareness. I do appear to have a second radio TXBPF failure on 15m, which is hopefully just a connection problem as I've only fed it 15w and into good VSWR. Other TXBPF is fine on 15M.
When looking at a bandmap and seeing a number of unworked stations, I did find myself wanting to Search and Pounce and stop CQing. Even trying to do that as aggressively as possible working a few a minute was perhaps slower than the CQ rate. I think the mantra is that I always ought to be CQing. My desire to S&P and not miss multipliers is what that second radio is there for.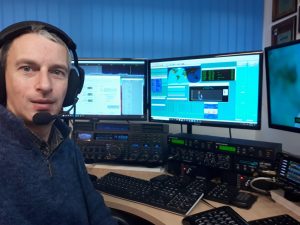 15M and 10M were not as good as last month – I hoped that Sunday might be better than Saturday, but to me Sunday seemed even worse. I worked a few on 160M using the 80M dipole.
The technology played a few tricks. After setting up DXLog I discovered that my sent CW was slightly laggy between each character. I rebooted the PC, turned off the panadapter, tinkered with Winkey and Microham settings. Eventually I ticked an 'extra character buffer' setting in DXLog which did the trick.
Not long after restarting on Sunday morning a 59+ loud DL appears CQing away slap bang in the middle of my audio passband. I complained a little. DL station protests. Then I found that I had somehow QSYd around 1 kHz in the last few minutes. I had no idea how that happened and wasn't aware. Apologies to the poor DL station.
For me, not a winning score by a large margin, but I had fun. Will do better next time!
Lee operated for 30/48 hours and made 1,766 QSOs. He was placed 204/1926 entrants world-wide in his category.
Chris G3YHF is our third contributor: This was my first attempt at a big international contest. I had recently erected a 160M inverted L for the RSGB Club Calls Contest, so I decided to leave it up and make a 160M Single Operator Low Power entry. This type of entry means no use of DX Cluster or other kinds of station-finding assistance, and maximum 100w output.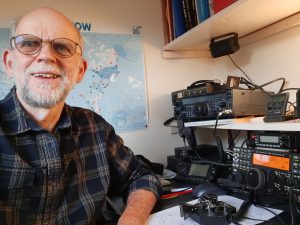 This was only the second time I'd used N1MM logger in a contest. I had it speaking to my TS590SG so it automatically recorded frequency and mode. But I hadn't mastered computer keying or shortcuts, so I used my Bencher Hex paddle for all the CW.
Besides logging the QSOs, another benefit of N1MM was that it remembered the frequencies of stations whose calls I had entered (or just looked up to see if they were dupes). So as I tuned the band and came across a signal, it would often tell me the call sign and I could move on if we'd already worked.
Of course, the advantage of a 160M entry is that the band isn't doing much during daylight hours so I didn't have the lack of sleep problems faced by Jamie and Lee! And stations in the contest are spread over only about 40-50khz, so there's not far to tune.
However, the downside is that in this narrow band there are lots of big signals covering up the weaker ones. The TS590 did very well, but I had a few ear-shattering moments. Usually this was when I had the RF gain backed-off and AF gain turned up to reduce the noise and copy a weak signal, only to find a very loud station appear almost on frequency! The 590's filtering isn't quite up to dealing with the conditions found on 160M during a CW contest.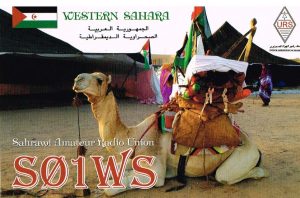 Having just come back to 160M after over 40 years away, I was more interested in seeing what DXCC entities I could work. So I concentrated on multipliers using Search and Pounce, rather than chasing each available QSO or calling CQ for long periods. Overall, I had about 6 hours operating out of the approximate 30 hours when 160M would be active.
I was delighted with being able to work 40 countries on Top Band, particular notables being S01WS Western Sahara, CN3A Morocco, and RM9A in Asiatic Russia. In addition, I had several contacts with stations in the USA and Canada.
This wasn't a serious contest entry, but having received the results I did better than expected. So next year I'll make a serious attempt in the same category and see what I can achieve. To help this along, I've now traded in the TS590 for an Elecraft K3S which will improve things on the receive side.
Chris operated for 6/48 hours and his 67 QSOs scored 3,384 points. He was placed 33/56 in the 160M low power category.
A writeup and photos of the whole contest can be found here