Over 400 squares were worked by Lee G0MTN and Mike G4VPD on 50 MHz during Wythall Radio Club's 2021 '6 meters and up' Challenge!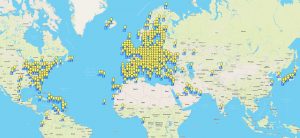 The map shows contacts as far apart as Japan and central America!
Lee achieved 461 squares, just pipping Mike on 447, both making great use of FT8.
Impressive results were also achieved on the other bands.
Mike G4VPD worked 94 and 87 squares on 4 and 2 meters respectively, while Simon G4TVR achieved 18 and 12 squares on 70cms and 23 cms respectively.
Keep tuned to those higher bands during 2022 and see what can be worked!