Members of Wythall Radio Club had great fun today at Wythall Park's 50th Anniversary Carnival.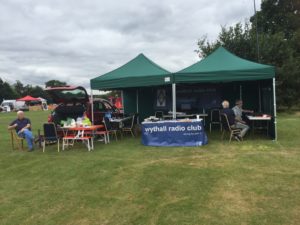 While we haven't been around as long as Wythall House and Park itself, we join in by taking a stall to show off aspects of our radio hobby and at the same time, support our community as best we can.
It was great to meet lots of prospective new members and old friends as well as local people we know – it's a great, if busy, day out, and of course there's the chance to play radio in the great outdoors…
Thanks to all members who came and supported us in any capacity but a special thanks to project leader John G3VRF who always suffers sleepless nights in the run-up to the day.
Here's to another half century of Wythall Park Carnivals!
Pictures from today below…