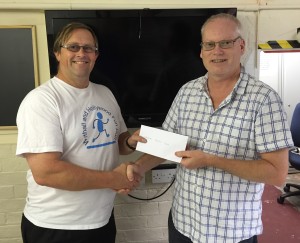 Members of Wythall Radio Club are enjoying the fruits of their labours this morning, thanks to the excellent work done at the recent Wythall Fun Run.
Although it is not too much of a hardship for members to be outdoors in the summer using their handhelds, it is always nice when one's efforts go rewarded.
So when Roy Clarke of the Fun Run Committee popped into the shack last night bearing a gift from the organisers to the club for our recent efforts, we couldn't pass up the opportunity to have a photo of him handing over a cheque for £250 to our Chairman Mike G4VPD.
A little help for the club coffers is always very much appreciated…