Further to the post about Mark M0LXQ below, it's now the turn of another Wythall Radio Club member John M6KET, to be a winner!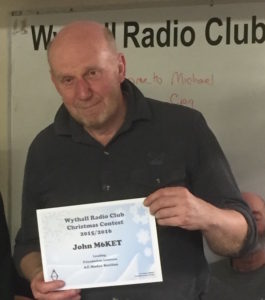 Retired teacher John told us, "…just returned from a CW (Morse Code) Boot Camp run by the excellent Essex CW Club with some 30 delegates put through their paces by hardened professionals (well, keen amateurs!)"
"Honest feedback received on both my sending and receiving was handed out, as well as lectures on all things CW from keys to building your own speed monitor."
"As I was the delegate who had travelled the furthest, I won a CG Antenna PK-4 CW Pocket Keyer (sponsored by our friends from ML&S)"
John runs our well-known Morse Training Classes on Tuesday evenings here at Wythall and we congratulate him on a great day out and a new piece of kit for the shack!
Well done John!