It could be the title of an Enid Blyton book, but it's actually the latest fantastic news from Wythall Radio Club's Training Team!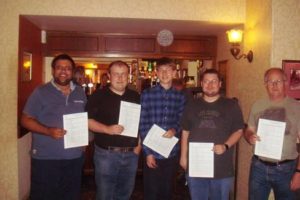 After weeks of studying, all five candidates sat their Intermediate Exam at the Club last night. And it was great to hear that all five passed with flying colours.
So it's congratulations from everyone at WRC to (from left to right in the photo) Jonathan M6JHX, Stuart M6HVF, Jonathan M6ITQ, Stuart M6SUD and Mike M6ILX, who will now all be upgrading their callsigns to 2E0 prefixes, just as soon as Ofcom let them!
Our thanks to all our Training Team, Invigilators and Tutors.
We now hope that these five will join our autumn Advanced course and go on to achieve the highest licensing level in the hobby.