Click here for the latest Wythall Radio Club Newsletter.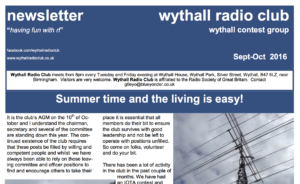 The September edition features news about an Online QSL request system run by club member Tim M0URX; G0MTN's adventures in Meteor Scatter this summer; the trials of fitting a workable HF antenna in a small garden; news on 2E0SDV's Expedition to the Orkney Isles for IOTA (while the rest of us had a BBQ in a field!) and the usual training updates and President's letter.
It's great read, so why not have a look at it now? Click here for more!