Now we are into the month of May, the thoughts of Wythall Radio Club members turn to a special event in honour of a special person. Former Club President, Lew Williams was not actually a licensed amateur but was a grand man who taught many members of our club the joys of Morse Code (CW).
When Lew passed away, it was thought appropriate to honour his memory in a suitable manner and so the "Lew Williams Shield" was born.
In order to win this trophy, Wythall Radio Club members are asked to view the 31 days of May as a "Morse Code Activity Month". The trophy is awarded to the club member who has shown some kind of commendable contribution to the event. It will probably involve some evidence of improvement, however small, in some aspect of his/her Morse Code skills.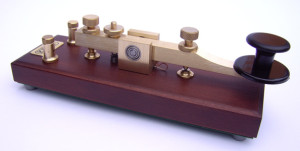 Current Club President Chris G0EYO was the first winner of the trophy and last year it went to a Founder member, John G4OJL.
To kick off this year's event, we are "Having fun with Morse Code" as a hands-on taster evening for all members next Tuesday 6th May. This will be led by John M6KET and Chris G7DDN who have been leading the revived Morse Code class for the last 3 years or so.
There will be something for everyone so no need to be apprehensive, even if you have never tried Morse Code before! 2030 in the Club Shack at Wythall House B47 6LZ. We hope to see you there.