One of Wythall's youngest members is celebrating today – that's because he's a bit of a video star! Jamie 2E0SDV makes quite a few appearances in the Radio Society of Great Britain's (RSGB) latest promotional video.
Jamie will be well known to readers of this website – he is a very keen 15-year-old Radio Amateur who just can't seem to keep away from his transmitting station! He was worked nearly 100 countries on Shortwave this summer alone and has also been elected to the RSGB's Youth Committee, as well as taking part in a Youth DXpedition to the Brecon Beacons.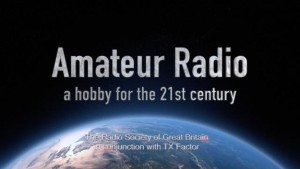 He also won the G5RP Trophy at the recent RSGB Convention in Milton Keynes.
No surprise then that Jamie appears in the new video, entitled "Amateur Radio – a 21st Century Hobby" which is aimed at enthusing young people to try out Amateur Radio as a pastime. Click the image on the right to watch it.
Who knows? Perhaps we will see Jamie on the X-Factor next!