Jamie M0SDV – a keen amateur radio operator and member of Wythall Radio Club – had a long chat 'on air' with Brian, call sign 9J2BO, in Lusaka Zambia. Jamie (photo below) and Brian used Morse code on the 12-meter amateur radio band.
Following this, Brian personally delivering a QSL card confirming the contact to Jamie's friend Phillipp (aged 21).
Phillipp is a German radio amateur – callsign DK6SP – who also operates from Chisamba Zambia at the DXpedition station 9J2LA. The DXpedition station was set up to activate Zambia, a country with few radio amateurs.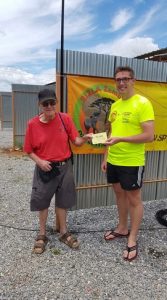 Jamie comments: "It never seizes to amaze me how we are connected in the hobby not only on the airwaves, but by friendships that are built for a lifetime."
The picture left shows Brian 9J2BO handing M0SDV's QSL card to Philipp 9J2LA.