Hot on the heels of Wythall Radio Club's appearance in Practical Wireless magazine, the club is now featuring in the RSGB's monthly magazine RadCom.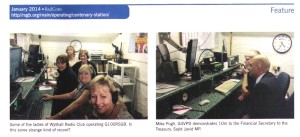 The January 2014 issue is being delivered to all RSGB members this week and features Wythall Radio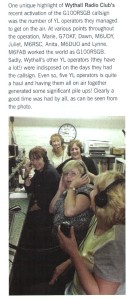 Club on pages 68 & 69 under the title "Amateur Radio at its Very Best". The article is about our activation of G100RSGB and the visit to the station of Financial Secretary to the Treasury, Sajid Javid MP.
As well as featuring in the main G100RSGB article, our group of female operators also makes an appearance on page 84 in the West Midlands Regional News section of RadCom. They are pictured in somewhat frivolous mood, in keeping with our club motto of "having fun with RF"!
Our thanks to RadCom's editor Elaine Richards G4LFM  for reminding us of some of the great bits of the fun time we had with the G100RSGB callsign.