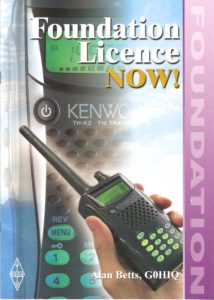 Latest News from Training Co-ordinator, Chris G0EYO is that the next on-line Intermediate Course is planned for a 28th June 2021 start and will last for 10 weeks and the next on-line Foundation course is expected to start in August.
Please register your interest now with Chris G0EYO at [email protected]
The Radio Society of Great Britain (RSGB) is now offering remote invigilation in people's own home for online examinations at Foundation, Intermediate and Full Licence level. You can read further information on the RSGB website here.
We are not yet in a position to offer paper examinations at the Radio Club.
The RSGB have also permanently removed the need for practical assessments for the Foundation course at this time. Practical assessments at Intermediate level are currently suspended until such time as the Covid lockdown regulations permit their resumption. We hope that they will remain suspended for the duration of the next Intermediate course.
CURRENT COURSES
ONLINE INTERMEDIATE COURSE starting 28TH JUNE 2021 TAKING NAMES NOW
FUTURE COURSES PLANNED
ONLINE FOUNDATION COURSE starting AUGUST 2021 TAKING NAMES NOW
ONLINE FULL LICENCE COURSE. We will not be running our own Wythall Radio Club online Full Licence course but I am a tutor on the Bath Based Distance Learning Group's Full licence course, run by Steve Hartley. Steve will run two courses per year, March and September. Contact me Chris G0EYO on [email protected] for up-to-date training news