The latest edition of the Wythall Radio Club Newsletter has been published today.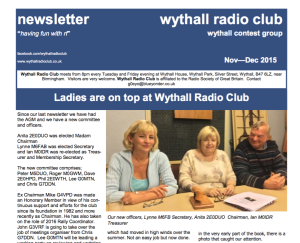 Editor Chris G0EYO has been burning the midnight oil just to get the latest fun-filled edition to you!
Highlights this month include not one but two visits to Ian M0IDR's workshop, reports on SSB Field Day and our club visit to the RSGB Convention; Roger M0GWM provides a training update and we look forward to Youth on the Air in December.
There's even some news on a new US callsign in the club – what's that all about?
To find out, click the photo or grab your WRC Newsletter fix here!