The May 2016 edition of the Wythall Radio Club Newsletter is now available for download. Just click here!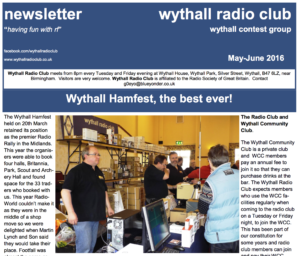 Features include a report on the fantastic 2016 Wythall Hamfest; a look at going bicycle mobile with new member Chris G3YHF; more details on how we achieved a Foundation pass for our visually impaired student, David and a 100 watt amplifier for 144MHz at little cost. There's lots more besides, so download today – worth a read, especially as it's free!
Thanks to all our contributors and of course Chris G0EYO, our faithful newsletter editor, who is in the throes of a house move, so how he's found the time, who knows?