Further to the previous post, Wythall Radio Club members have been busy again on the antenna front!
The club antenna project continues apace – this week it's been Chairman Mike G4VPD, Stu M0NYP, Rob 2E0MEX and Kevin 2E0NCO getting their hands dirty!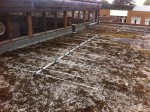 The fab four managed to get onto the roof at Wythall House and build the first of our replacement antennas.  The VHF and above stack was tackled as a priority. Click on the photos for a better view!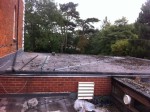 So now we have beams ready to put up for 23cms, 70cms, 2m, and 4m/6m. The 5 band HF yagi is to follow.
We are sure our friends at Innovantennas will be watching this carefully – we don't want to be having to order replacement parts before we even get the metal in the sky!
More developments on this project soon – there is a Bank Holiday weekend coming up here in the UK, so if the weather is kind, there may be more news and photos for you next week!