Wythall Radio Club member Jamie M0SDV is celebrating today.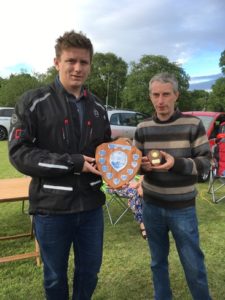 He has been crowned the winner of this year's Lew Williams Shield award.
Each May, we designate the month as our Morse Activity month and members are invited to show evidence of progress in learning and/or using the Code in the Radio hobby.
This year Jamie, (who is still only 16, even though he is tall!) was nominated the winner by the judging panel. This comes hot on the heels of him recently gaining his Full licence callsign a few months ago.
It's been an exciting few weeks for the young man, who is pictured here at last weekend's Field Day and BBQ, receiving his awards from judge Lee G0MTN.
Well done Jamie, from everyone at WRC!