Wythall Radio Club member Clive M7OCB has been making the most of his new call while
out portable on the high ground!
My wife, Penny and I have a static caravan in Cumbria on the edge of the Lake District and spend a good deal of time in the area throughout the year.
We enjoy walking the Fells and sometimes the lower Peaks with our two dogs. Following on from the restrictions due to Covid being lifted we were keen to visit the van for the first time this year.
Keen too to give my trusty Baofeng handheld a chance at some high level QSOs in the outdoor environment!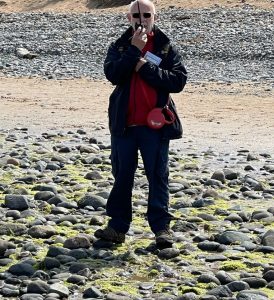 So to the Lakes at the end of April for 2 weeks. I have become more confident in using my radio and keen to add more QSOs to my Log Book and this trip seemed to be the ideal means to do this.
On the first day we were doing some minor maintenance on the van. I had the radio on the van decking and overheard a SOTA activator calling CQ SOTA on Coniston Old Man. Didn't manage to get back to him but it inspired me to actively listen out for CQs.
Over the next few days I had SOTA contact from a High Fell Whitbarrow (a QSO of 31 miles)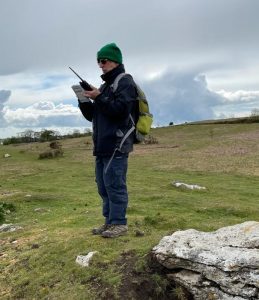 which further inspired me.
On Black Crag (323m) I called CQ and had a number of QSOs.
At this point I learned the importance of a note book as I was unable to Log these contacts! Another successful session on Birkrigg Fell (116m) furthest QSO to mobile at 33 miles.
I have now registered myself on the SOTA web site and plan to do some Activation during the summer when we visit again.