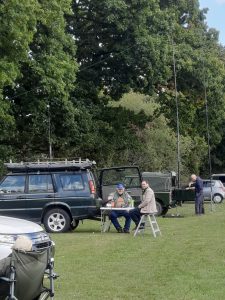 Bright sunshine and warm weather graced Wythall Radio Club's autumn field day.
Over a dozen Club members and friends had fun with RF at Wythall Park, our home QTH, and we worked several more members 'on-the-air'.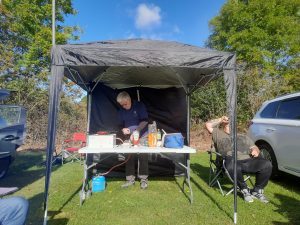 While some erected masts and strung wire antennas from trees, and Kev 2E0NCO got the generator running, Phil 2E0WTH put the kettle on and got the bacon and eggs cooking!
Operating from the field gave us a chance to get some big antennas out – from ex-military verticals and a DX Commander to a Buddipole.
There were also SOTA linked dipoles, vehicle-mounted HF and VHF antennas and a Moxon.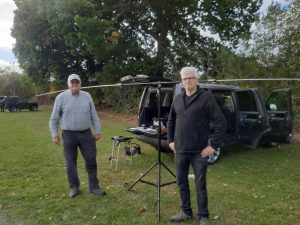 We'd like to thank all those amateurs with whom we had QSOs, helping us have a great day out.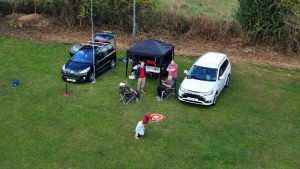 At the field day were: Phil 2E0WTH (thanks for arranging the venue), Clive M7OCB, Kev 2E0NCO (flight controller!!), John M6KET/2E0XET, Jim 2E0BLP, Warwick G4WMH, Martin G8VXX (thanks for the loan of the genny), Lee G0MTN, Les 2E0LRV, Don G0NES, David G7IBO and Chris G3YHF, our members who called in 'on-air' – Chris G0EYO, John G3VRF and Milo 2E0YZW, and visitors Mike 2E0ILX with spaniel Brambles, and SWL Richie.