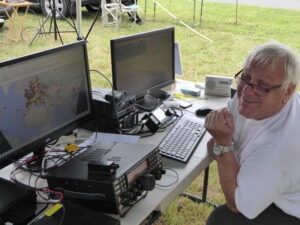 Visitors welcome at Wythall Radio Club's famous 'Plug and Play' event on Saturday 9th Sept. between 10 and 3.
We'll once again be operating various radios from Wythall Park, using a variety of antennas – and hopefully we'll have some contacts via a satellite!
You can find us on the far side of Wythall Park, furthest from the car park. Follow the tarmac footpath on the right hand side of the small playground, and keep going bearing right at any junction!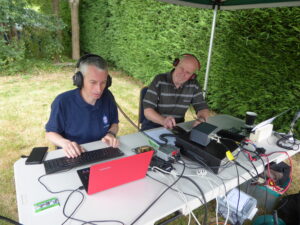 You'll see vehicles, antenna masts and flags – that's where we are.
Here's a report on a recent 'Plug and Play'.
We are also holding an open evening for anyone interested in becoming a member of our Club, or in obtaining an amateur radio licence so you can transmit and make new friends locally and around the world.
The open evening is on Tuesday 5th Sept. from 8-9pm in the Darts Room, on the ground floor of Wythall House. Follow the signs.
We'll have some radios operating making contacts outside the UK, as well as members who can chat with you.
If you can't make these dates, there are members at the Club most Tuesday evenings – email us to fix a date to visit at: wythallradio@gmail.com